Cryptocurrency Exchange Development Services
Safe to run, easy to capitalize on
To cater both professional and novice traders, we tailor user-friendly and flawlessly secure cryptocurrency exchange apps, web and mobile. We take care to underpin them by multiple trading modules and pairs, along with intuitive and swift crypto wallets.
We build all types of cryptocurrency exchanges
Architecture complexity and scalability aren't a stopper — we can deliver and deploy cryptocurrency exchange apps that seamlessly support any communication logic you require.
Centralized cryptocurrency exchanges
Broker-based exchange apps where you are a middleman, while users trade Bitcoin-like currencies in a trusted environment.
Decentralized P2P cryptocurrency exchanges (DEXs)
Smart contract-powered platforms that enable traders to handle transparent, reliable, and automated peer-to-peer deals.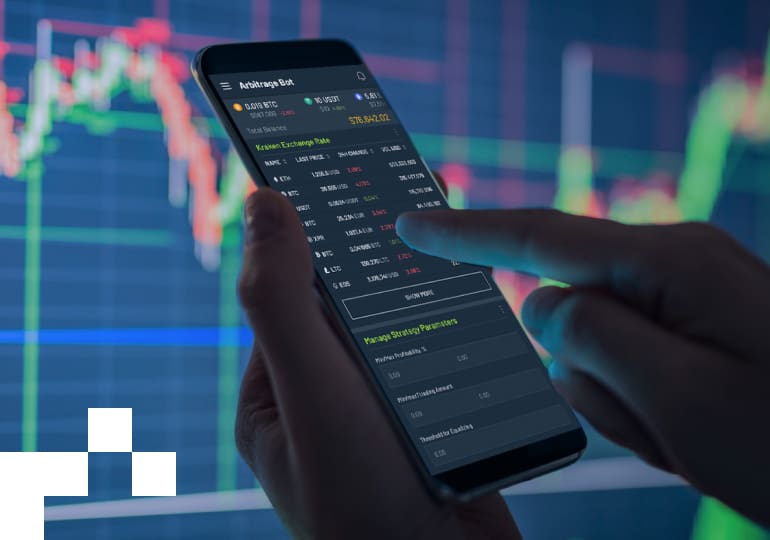 One-page cryptocurrency exchanges
Streamlined and neatly structured exchanges that ensure fast time-to-market.
Secure your digital assets
We know how to engineer crypto exchanges that are safe and future-proof enough to withstand any attack. Briefly describe your request — we'll call back to discuss it for free.
We create full cryptocurrency exchange infrastructure
Not only do we deliver crypto exchange software, we can also take care to custom-build each component for a full-blown DeFi ecosystem.
Mobile & web crypto exchange development
Cryptocurrency wallet development & integration
OTC trading platform development
Payment gateway development
White-label STO platforms development
Our crypto exchanges are utterly secure
We've been long fostering our expertise in cryptography and cybersecurity to be able to deliver cryptocurrency exchange apps that strictly abide by the CryptoCurrency Security Standard (CCSS).
Shamir's Secret Sharing algorithm
Multi-factor HTTPS authentication
Transactions in a matter of seconds
Duplicate payment protection
Trackable transaction history
Transactions in a matter of seconds
Elliptic-curve cryptography (ECC)
Google Authenticator verification
PGP-enabled message encryption
We never apply an equal approach to all projects, as we know that each business case is individual. Leave us a couple of words about your tech challenge so we could come up with further consultation.
Crypto exchange development process unveiled
Approach us for a full cycle of engineering — we are here to deliver a robust crypto exchange either from scratch or be responsible for any stage you require.
Why choose us for crypto exchange development
To ultimately reduce time-to-market, we suggest using our ready-made software modules. Feel free to ask us to add custom features or integrate external networks, exchanges, and marketplaces.
We abide by advanced DeFi tech standards
Building entire DLT ecosystems is our signature service
We hand-pick the tech that suits your needs
Our industry-certified team's expertise stands out
Domain-specific projects to our title
Raised via dedicated solutions
Cryptography, DeFi, tokenization & cross-device connectivity
Drop us a line about your STO development challenge — we'll get back to you for a talk about how it could work. The path from a vague idea to an actionable tech roadmap may be shorter than you think.