IT Consulting Services for Business Transformations
Become tech-first. Craft a stellar future for your enterprise
We can be your rock whenever you're taken off guard by a challenging roadblock to business progress. Belonging to the high-tech lot from 2007 on, PixelPlex has grown into a mature engineering service provider and a full-blown IT consulting firm all at once.
We align IT consulting with your needs
Whatever your tech background or target market, we'll find a way to tackle your challenge.
We build all types of cryptocurrency exchanges
Architecture complexity and scalability aren't a stopper — we can deliver and deploy cryptocurrency exchange apps that seamlessly support any communication logic you require.
Tech-powered enterprise transformation
Never take chances with legacy systems, as you risk being cornered with harsh efficiency and security issues. With blockchain, AI, IoT, AR/VR, and big data among our signature techs, we can tailor a smooth iterative route for a complete business makeover.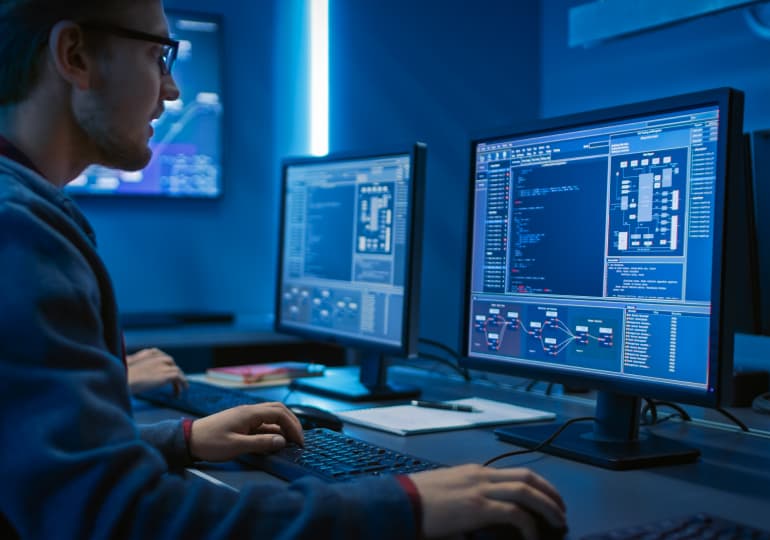 IT product strategy consulting
We help put it all together for those who need a hand in building a sensible tech solution strategy. Always concise and to the point, our experts offer result-driven project plans while focusing on careful resource balancing.
Smart contract-powered platforms that enable traders to handle transparent, reliable, and automated peer-to-peer deals.
Dedicated IT consulting tasks
Streamlined and neatly structured exchanges that ensure fast time-to-market.
Optimize your existing processes
Reach out to discover how to plan your business transformation, line out a digital product strategy, fuel vital operations, prevent overloads, and cut costs for digital services.
We focus on your industry specifics
To us, there cannot be an excuse for ignorance of detail. Our IT consulting firm has made it a rule to learn your target market and business niche competition, trends, and major issues. We'll stack you up against any call whatsoever, whether you're a newbie or a giant.
Haven't found your domain?
Our cross-disciplinary expertise doesn't limit to what's listed above. Leave us your questions — we'll get back to you for free to respond to any of them.
Uncovered and explained: IT consulting process
For years, our T-shaped experts have been honing an approach that enables clients to quickly hit the market and get their money's worth. With complexity level in mind, we usually make advisory projects go through the following stages:
In case you're looking to check your existing solution, we run a complete analysis, detect and report issues if any, and suggest improvements. If you're eager to become a new tech disruptor, we sit with your stakeholders to study your business case and digital transformation ideas while assessing their viability.
Once we've documented requirements, we need a plan. Here's where our IT consulting team designs a strategy that details the technology package to sit well with your infrastructure. We also proceed with high-level estimation.
Abiding by the plan, we model the solution architecture and features, develop robust UX, design a solid infrastructure, suggest integrations or ready-made components. Finally, we come up with rollout and testing plans, detailed estimation and project roadmapping, while also offering full-scale solution engineering and support.
To ultimately reduce time-to-market, we suggest using our ready-made software modules. Feel free to ask us to add custom features or integrate external networks, exchanges, and marketplaces.
Client's business goals are a priority
No matter what, we stick to the timeline, deliver within the plan and budget, while even finding ways to cut costs or to boost revenue.
Cross-domain and multi-tech expertise
Purchase fractions of real-world assets while embedding additional vesting, buybacks, and dividends.
We do our best to live up to our stripes of a world-class award-winning B2B market leader.
Trusted by global software vendors
The team keenly values its partnerships with Fortune 500 clients across the globe, including BMW, Microsoft, Swisscom, and Kakao.
Compliant with international standards
We bring our solutions in line with any local jurisdiction or industry standard: AML/KYC, GDPR, ADA, PCI DSS, PSD2, HIPAA, FISMA, SEC, FDA, FCC, FERC, EU REACH, FCPA.
Reach us out for pointers
Now that you've made it to scroll down that far, we're officially here for you to get you a short no-charge IT consulting call. Think of the questions that will be first and foremost.
The tech cornerstones of our engineering prowess
We're passionate about building solutions upon the technologies that are a buzz for a reason. With their advanced impact, we help clients play big on the global market.
PixelPlex has for years been consulting clients on how to maximize business efficiency and secure funds by implementing the DLT into enterprise infrastructures. Ask us to map out a flexible ecosystem that safely tackles your critical operations.
Our IoT expertise helps us seamlessly orchestrate multiple interdependent workflows within existing or planned infrastructures. Discover the ways to connect disparate digital and physical assets into a well-managed data turnaround network.
Through our AI projects, we've built systems that automate complex time-consuming routines, streamline customer resolutions, and dramatically reduce man-hours. Take advantage of smart algorithms to translate big data into actionable business growth plans.
With immersive AR/VR, there's much more to your brand identity that can meet the eye. Let us help you open up unlimited business dimensions where you can stack up against competitors via thrilling product presentations and wowsome user journeys.
Have an idea in mind? We've turned dozens of them into commercially successful deliverables. Drop us a line and give us a moment to put the solution nice and easy.