Business-Focused Web Development Services
Transforming your enterprise with efficient web solutions
Our certified web developers, designers, and consultants will help you at every stage of the product development process by turning your project ideas into effective solutions. From building a robust web application to designing an appealing UX to creating efficient marketing strategies — we got you covered.
for a typical project kickoff
successfully delivered projects
of our customers file into long-term engagement
Web development services include designing, building, maintaining, and evolving all types of web-based solutions in line with the defined business goals. We have proven experience in building comprehensive yet intuitive websites, complex web portals, and other web software that perfectly matches your business requirements. Our web development services are focused on helping you achieve the following outcomes:
Increase your customer base
Increase your customer base
Increase your customer base
Qualified web development team with 15 years of experience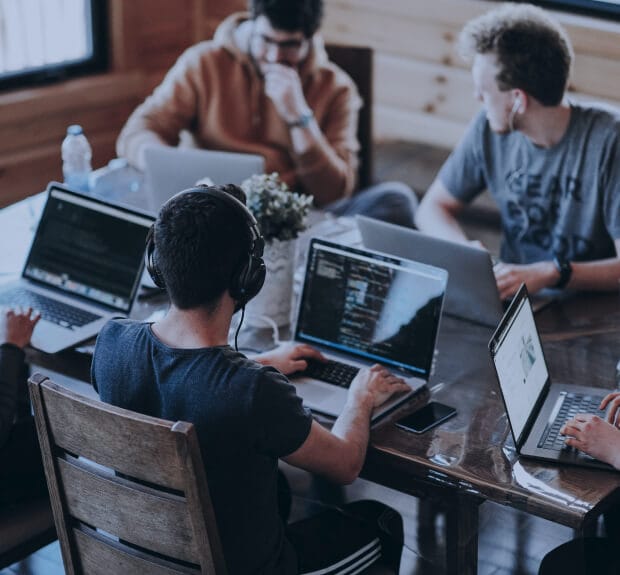 PixelPlex web development services and competencies span product consulting, web development, web design, and digital marketing.
Our team of business analysts, consultants, and developers can help you evaluate and validate your project idea, suggest a suitable technology stack, create a project roadmap, and assist with idea implementation, be it a simple website or a comprehensive enterprise web portal.
The PixelPlex web app development company also has certified UI/UX specialists that make sure your users have a flawless experience with your digital products and talented digital marketing specialists working towards driving new customers and increasing user website conversion rate.
PixelPlex not only helped us execute a specific vision, but also brought creative, out-of-the-box problem solving skills to the table. Ultimately, they helped us build our entire platform. A $150,000 passion project turned into a $1.8 million content studio, thanks in large part to platforms that PixelPlex helped us build.






PixelPlex has a pool of experienced business analysts, designers, software architects, web developers, UI/UX specialists, and project managers capable of providing end-to-end web development services. From ERP system implementation and custom website development services to website audit and integration with third-party tools, our team will help you tackle all the development challenges. PixelPlex's web development services span both enterprise-grade solutions and consumer-facing websites that align with your business requirements. Be it a digital workplace, CRM application, or BPM solution – we will ensure best results.
Let us take care of your mobile apps development services
Creating a custom application that millions of users will enjoy requires more than iOS and Android expertise. A talented design team and experience extending from hardware integration to services is a must. Mobile presence is an extension of your brand and must be accorded the same care.
Web development solutions
PixelPlex team of experts offers a wide range of web development solutions that address any business challenge. Whether you require a custom ecommerce website or enterprise platform design you can entrust it to our team and we will come up with the best possible solution. Take a look at some of the web development solutions offered by PixelPlex.
We use an integral approach to web development
Our web development company has a firm grasp of how to tackle technology and design challenges while leaving clients out of production hassle.
Prior to hitting the road with full-cycle engineering, we suggest defining and documenting your product vision. We'll proceed with user flow wireframing and red-flag potential inefficiencies, and make processes easily adaptable.
If you're looking to craft a complex metaverse project, we'll help pick a one-stop studio. Ask us to devise a flexible architecture, all-inclusive digital experiences, platform-as-a-service modules, and multitasking UIs.
Creating an MVP is a neat, easy route to a quick release. We build the solutions with all the essentials in place, optimize them for asset markets, fine-tune eCommerce workflows, and right the wrongs through end-to-end testing. If you want to speed ahead and get that market-leading edge, we'd be glad to offer our pre-built
We can help you with solution deployment to your target platforms and stay right by your side, keeping track of your product's progress and user satisfaction. To further evolve your metaverse project, we'll help you add new features and integrations.
Delegate your web development challenges to our team
Need help with web application development? Contact our web developers and consultants to receive expert assistance with the design and development of an efficient application.
PixelPlex AR, VR & MR development toolset
To guarantee that your Big Data architecture will work like a charm, PixelPlex has accumulated a multi-layer library of frameworks, engineering tools, platforms, and techniques
PixelPlex experts implement a wide range of industry-specific web solutions that deliver an outstanding customer experience and align with your business goals.
Contact us to discuss your web project
Consult our website developers to help you build solutions that streamline requests, offers, services, and stats while sticking to your major objectives. Hire a trusted team with solid expertise in web application development and become a market front-runner.